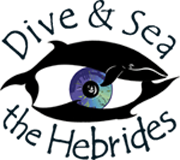 Choose Charter on Elena C licensed for 12 | DIY DiveSkye is cool too | 40 years local dive experience | unrivalled local knowledge | leaving the hassle and running around to us | we understand your in-water diving needs | we appreciate the little things that make a confident and enjoyable dive experience | a reputation for getting things done | launching and moorings at the dive centre + 16 local jetties
DIVE CHARTER or DIY DIVESKYE
MV Elena C, is available to charter by clubs or dive schools and we also offer the opportunity to bring club RIB's to DIY DiveSkye. Alternatively you may prefer to bring a buddy or small group and join an expedition. So here are the options.
MV ELENA C
'Dive & Sea the Hebrides' charter vessel 'Elena C': is an Aquastar 33, licensed and insured for 12 passengers + 2 crew, operating within the MCA Code of Practice, category 2, 60-mile license.
She is fully equipped with all the legally required safety equipment and life rafts, ensuring your safety and comfort. New for 2023 (see below), powered with twin 160 hp diesel engines she is well powered, very manoeuvrable, and offers peace of mind for unforeseen circumstances that may occur while operating in remote locations. She carries full navigational electronics including GPS, radar, colour sounder etc.
With a well-equipped wheelhouse, small galley and toilet, and below deck stowage there is ample space for all gear and 2 cylinders each per day. Easy to climb dive ladder , after which a hot coffee or tea awaits you. UPDATE, Many of you will be excited to hear that a dive ladder  is currently in design with the intetnion of installation for 2023, (supply chain dependant).
So charter 'Elena C' and maximise your diving opportunities by leaving the hassle and running around to us!
When you come to DiveSkye you can either CHOOSE CHARTER or to DIY DiveSkye.
So why choose charter? Quite simply when you charter, WE work and YOU dive! We feel that while on holiday you should not mix up the 'E's of endurance and enjoyment! Simply forget the logistics nightmare, and accumulative exhaustion of launching, planning and diving. Let us do that for you. The diving is fantastic so don't waste your energy chasing around launching and fixing boats, make the most of it underwater and allow our qualified skippers to use experience and vital local knowledge to maximise your diving opportunities.
Gordon is a fully qualified diver skipper, with an important emphasis on being a diver. He understands your in-water needs and appreciates the little things that add up to a confident and enjoyable diving experience. With a commercial diving background, HSE Diver First Aid and Dan Oxygen administration training his combination of professionalism, local experience and fun are refreshing. While safety and reliability are considered paramount, his enjoyment of sports diving is considered of equal importance. BUT don't take our word for it, read what you said!
DIY DiveSkye is cool too! We recognise, that for many reasons, you may prefer to bring your own boats. We live on site at the dive centre and are happy to help with planning your dive schedule, providing dive information and details on weather and tides. This is particularly relevant if wreck diving is your forte, and launching at one of Skye's many jetties will give easier access to a wide variety of wreck diving options. There are 16 launch sites on Skye and locally adjacent moorings are included in a DIY DiveSkye package.
We do not dive the HMS Port Napier from 'Elena C' because it is too far from our west coast high-energy sites, however, we can put you in touch with a charter boat at Kyle of Lochalsh. It will be your responsibility to assess the suitability of that vessel and skipper and to organise the terms of any contract you may negotiate. DASTH cannot accept responsibility for any diving from other vessels. Many divers choose to do this dive on the way on or off Skye.
JUST ARRIVED at DiveSkye!
Cleaner, greener, power for your 2023 expedition.
We are so excited to finally receive our 2, very long-awaited, brand-new engines for Elena C. They will be fitted in the coming weeks, commissioned with sea trials and ready for new diving expeditions and adventures for the season of 2023. Designed and certified to the highest environmental standard they will bring a significant reduction in fossil fuel dependency and Carbon emissions and are just one part of our journey towards NetZero.
November 2022