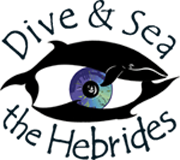 "Discover Skye beneath the sea, it's a different kettle of fish!"
OVERVIEW
STAR RATING: 5 star
POSITION:  3 miles North West of MacLeods Maidens
EXPERIENCE: Competent, site requires care with tide and swell
DIVE DEPTH: 19-22m
CONDITIONS: Slack tides combined with westerly winds and swell can make this dive unmanageable.
SEA BED: Consists of black rock with a scattering of white shell sand and a sharply rising rock face.
TIDES: The tides run strongly along this site, and slack tide is almost essential. Experienced divers can dive shortly after slack on the flood.
TAKE CARE: Swell, tide and wind must be closely watched.
DESCRIPTION
Described by many as awesome and said to rival the Red Sea diving easily this is an excellent photographic dive site with visibility in excess of 15 metres. A vertical black rock face plummets to the sea bed in an amazing technicolor of encrusting soft colour and anemones of all shapes and size. A crevice at the base of the cliff, described as a 'conveyor belt of marine life' is crammed full.