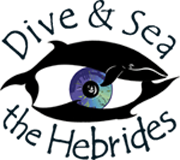 Choose Charter on Elena C licensed for 12 | DIY DiveSkye is cool too | 40 years local dive experience | unrivalled local knowledge | leaving the hassle and running around to us | we understand your in-water diving needs | we appreciate the little things that make a confident and enjoyable dive experience | a reputation for getting things done | launching and moorings at the dive centre + 16 local jetties
WHO ARE Dive & Sea the Hebrides?
Gordon & Aileen MacKay established this small family business  in 1986. While skippering the boat Gordon shares his 40 years of unrivalled local dive experience on this coast, in a refreshing blend of professionalism, wit and fun. Following in his footsteps Jamie & Calumn spend the summers aboard, and having spent the first 15 years at seas, Aileen escapes to sea now whenever time allows.
ABOUT GORDON, the SKIPPER
Gordon is a fully qualified diver skipper, with the important emphasis on being a diver. This experience means that he understands your in-water needs and appreciates the little things that add up to a confident and enjoyable diving experience. With a commercial diving supervisor background, HSE Diver First Aid and Dan Oxygen administration training his combination of professionalism, local experience and fun are refreshing. While safety and reliability are considered paramount his enjoyment of sports diving is considered of equal importance. BUT don't take our word for it, read what you said!
At the risk of sounding like some cheesy coffee table glossy, we thought we'd give you some wee snippets of background information about Gordon… just for those that don't know him already!
So what does he say about diving with him?
'Chill, you're on Skye time now, and the guy that made time, made plenty of it!'
'You're on holiday – enjoy it don't endure it'.
Tell us about your life as a diver!
I started diving in 1976, ………. 42 years ago, and still enjoy it. I have dived around the coast of Skye throughout that time, even when home on leave from diving commercially in the Middle-East! Despite rumours of heroic fights with great whites or reckless propellers, the facial scars were delivered by a Manta (not Ray, …Opel), on the way to a football match. I've despised the sport ever since.
What we said about Gordon the diver!
With a reputation larger than life in the dive industry, his diving career has been filled with far too much hilarity and practical jokes. As a commercial diver in Saudia Arabia, he worked as a diving supervisor for 15 years where he undertook regular air dives to 60m+ , which haven't helped… well, anything really, but with an ability to get the job done, his reputation follows him ashore today! Surprisingly he still loves diving!
What is your favourite dive?
"Conger Crevice by day" and "Lochbay Pinnacles at night"
What is your favourite tipple?
"Highland Park whisky, Rusty Nails or Innes & Gunn beer (brewed by a customer who started diving with us, as a student)!"
Looking to the future!
Over the years, all of the family have been involved in the business at sea. Aileen skippered for years while Gordon dived, until the family came along, and has been based ashore in the last few years, much to her disgruntlement. Our sons Jamie and Calumn have helped aboard ever since they could persuade Dad to take them out that day, and last season started to work more seriously aboard during the holiday's time. They very much have brine in their blood, and inspired by the 'International Ocean Film Festival' to have adventures at sea, who knows where that will go.