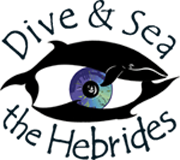 "Discover Skye beneath the sea, it's a different kettle of fish!"
Lochbay Islands & Lochbay Pinnacles
There are numerous good diving sites in and near Lochbay. It offers shore diving, scenic and night diving. Close to the Dive Centre in a sheltered sea loch it always assures bad weather diving even in winds of up to force 8+. An ideal base for your expedition! 
Lochbay Pinnacles
OVERVIEW
STAR RATING: Scenic /Bad Weather 3 star, Night 5 star
POSITION: Stein, Waternish
EXPERIENCE: All
DIVE DEPTH: 6-23m;
CONDITIONS: Sheltered can dive in south west gale 8+
TIDES: None
SEABED: Silty sand, easily disturbed.
DESCRIPTION
This submerged pinnacle descends from a flat top at 8m vertically on two sides to 22m at the seabed and can be circumnavigated in one dive. Its many cracks and crevices are always a delight to explore with colour and species cloaking its faces. Having dived it by day, and being only 10 mins from the dive centre, it makes an ideal night dive.