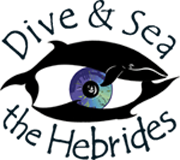 Choose Charter on Elena C licensed for 12 | DIY DiveSkye is cool too | 40 years local dive experience | unrivalled local knowledge | leaving the hassle and running around to us | we understand your in-water diving needs | we appreciate the little things that make a confident and enjoyable dive experience | a reputation for getting things done | launching and moorings at the dive centre + 16 local jetties
LOCAL EXPERIENCE
No amount of qualifications alone makes a good skipper and local knowledge and experience is vital for both safety and making the most of your holiday. Having dived locally for over 30 years Gordon and Aileen have the experience to guide you through your holiday. Their diving knowledge and understanding of local tide and weather, enables them to ensure each days diving best matches your 'diving wish list' and experience. Unlike many skippers, who know only the 'Munros' of diving on Skye, we discovered them and know all the other sites that fill in the gaps, particularly relevant if tides are fickle or weather unforgiving!
PROGRESSIVE DIVE CHARTER & SHELTER
Departing from numerous local jetties offers flexibility and enables us to take you to many different dive sites. This offers variety in underwater experience while progressing around an extensive area of coastal waters. We can move 'Elena C' after diving, to one of the numerous jetties in the evening for a new start point the next day. Travel is by road to home base each night, which gives you the flexibility of shore-based comfort without restricting your diving possibilities. Sheltered diving is available due to the deeply indented sealochs, high seacliffs and protective barrier islands. We very rarely cancel diving.
SKIPPERS KNOWLEDGE
The skippers knowledge and dive experience is what makes or breaks a trip, and as John Liddiard said in his article in Diver, July 2005;
"Most experienced divers can pick a reasonable scenic dive off a chart. Just look for any rock, pinnacle, channel or headland with close contours and a bit of current and the chance are it will be worth a look. But that won't necessarily account for all the best scenic sites, as the next one beautifully demonstrates. There is nothing on the chart to indicate anything other than a gentle slope of kelp under the cliffs at Rubh nan Clach (and I have no idea how that is pronounced). In fact, for a mile each way the coast is probably just that. It takes the experience of someone who has been diving Skye for years and systematically exploring, to know just where a group of big scour holes can be found. It's a scenic housing development for all the best marine life, from crawfish to octopus, tastefully landscaped with anemones and dead men's fingers, carefully secluded 3m below a surrounding arboretum of kelp."