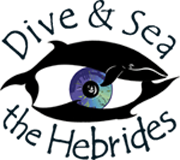 a spectacular diving location | no queues on the shot line | the dive site is yours alone to explore | dramatic and diverse underwater scenery | excellent visibility and clean waters | unspoiled reefs | a unique and diverse blend of marine life | fantastic photography | sheltered diving
DRAMATIC COASTAL LANDSCAPES
You will experience the pleasure of no queues at the shotline when you discover this dynamic coastline and its diverse diving, while exploring cliffs, wrecks, drifts pinnacles, wee caves and night dives, all with excellent visibility!
The Isle of Skye is the perfect island location for your dive expedition. Remote yet accessible, it is set like a gem in the Sea of the Hebrides and is the largest of the Inner Hebridean Islands. Centrally placed in the archipelago, with ocean waters rising from the deep Atlantic seaboard on its western horizon, 'Dive and Sea the Hebrides' offers some of the finest, remote European and Scottish diving available, with a very extra special diving edge. For those that aspire to St Kilda, but can't devote the time to ensure getting there, then DiveSkye offers THE no 1 very best alternative.
The geography of Skye makes it a perfect diving location.
Skye a large island, is over 50 miles long and has an extensive coastline of over 1300 miles | no place on Skye is more than 5 miles from the sea | 16 different launch points | endless horizons to explore | soaring rocky peninsulas of land with high cliffs, encompass 11 major sea-lochs | groups of barrier islands keep the sea-lochs relatively calm, offering shelter on weather days | relatively unexplored by divers | worth the extra two hour drive beyond the busier dive locations to enjoy the unspoiled diving
At the meeting point of warm southerly and cold northerly oceanic currents, the diving is temperate and offers a unique blend of marine life both above and below the water. The clear and clean waters that enrich our coast, present a largely unexplored photographers paradise, and for those that simply seek escape or adventure, there is plenty to discover and explore. With no queues at the shot-line it means that the dive-site really is an escape and yours alone to explore, and the diving is superb!
Often accompanied by porpoise and dolphins, topside encounters of a wide diversity of marine giants are increasingly more common, and in water encounters an occasional lucky treat!