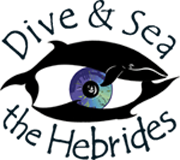 a spectacular diving location | no queues on the shot line | the dive site is yours alone to explore | dramatic and diverse underwater scenery | excellent visibility and clean waters | unspoiled reefs | a unique and diverse blend of marine life | fantastic photography | sheltered diving
Skye boasts a dynamic underwater landscape mirroring that which is widely acclaimed topside, where soaring cliffs, towering pinnacles and the surrounding sculpting ocean merge to display some of the world's most breath-taking scenery. The geological excitement around this extraordinary coastline of sheer cliffs and secret beaches, continues beneath the waves shedding only the cloak of hillside heather and wild moorland flowers for the technicolour mantle of kelp forests, soft corals, sponges and anemones. Long fingered peninsulas and deep sided long sea lochs offer shelter from fast moving inclement weather fronts.
Exposed west facing sea-cliffs plummet into high-energy tidal waters, offering world-class, spectacular underwater scenery. A dramatic diving experience, with a variety of sheer drop-offs, pinnacles, caves, crevices, unspoiled reefs, sandy seabed's, boulder slopes, popular and undoubtedly some undiscovered wrecks, offers endless underwater opportunities. The choice is tremendous! We often round of the day with a dramatic night dive BUT not in the middle of summer. In Spring and late Summer when you ascend from your dive you will be mesmerised by the captivating canopy of stars flickering in our famous dark skies. You never know, you might even be lucky and see the aurora.
Underwater the sublitoral seabed drops sharply below the waves and the 25 m contour is often very close to shore. Depths on our regular dive sites range between 15-35m, although plenty of opportunity exists to venture deeper towards the big blue abyss! Blanketed in a kaleidoscope of colour, there is something to suit everybody with diving to challenge and inspire divers of all experience! It's a divers dream and photographers paradise!