PHOTOBOMBED BY A BASKING SHARK, diving with marine giants!
It is the selfie on every divers bucket list and what a moment to treasure. Just watch Alistair's recent encounter and feel the excitement. He will never forget it, WOW!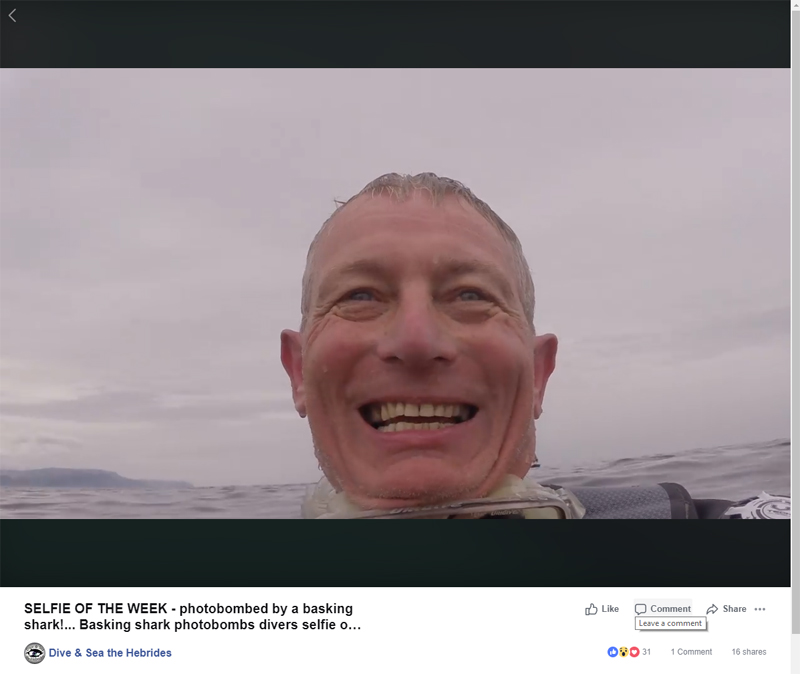 The Hebrides are 'acclaimed as the best marine watching destination in Europe' and Skye is at the top of the encounter list. The Lochbay Islands are a special area of conservation for the more timid common seals and more recently the inquisitive grey seals inhabit these islands too. In-water sightings of basking shark are becoming more common, but off course remain utterly unpredictable. ………. But the 2018 season was good! Come on everyone share your marine giant moment! It's an experience we consider to be lucky when it happens, but not to be expected or anticipated. Minke whale, and dolphin are frequently sighted while aboard but they are generally more elusive underwater, although as a family we had an extraordinary underwater encounter, with a young minke whale recently, (video to follow). Huge schools of dolphin have been enjoyed this season and the resident pod of Orca are often sighted in The Minch; ………. for the cautious amongst you, don't worry they are pelagic and we have not seen them underwater yet!
Check out our  Underwater Marine Line and Topside Marine Life here.